Transitional Grey Hair at Colour Me Beautiful Salon in ABQ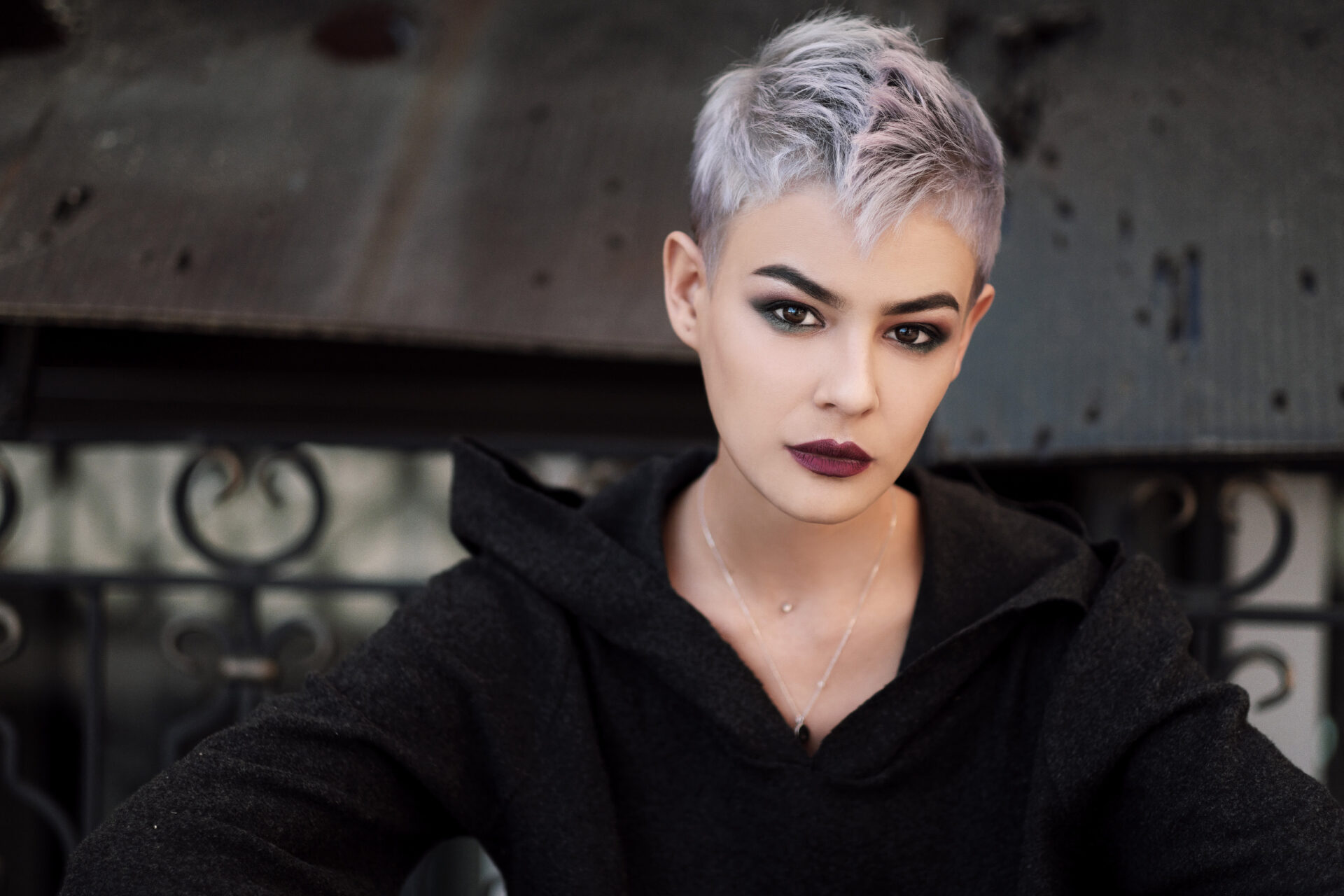 Transitional grey hair is the latest hair color service offering women a way to embrace their grey hair while skipping the long grow out process. Unlike most hair color services, we don't color your roots - we color the rest of your hair to match your natural grey color and your salt and pepper pattern.
Colour Me Beautiful is the ONLY salon in Albuquerque offering Transitional Grey Hair.
---
Here's everything you need to know about our Transitional Grey Hair Service
What is Transitional Grey Hair?
Grey hair transitioning is for clients who have been coloring their hair for years but are ready to embrace their natural grey hair. Instead of waiting for your grey hair to gradually grow in, we can color the lengths of your hair to match the roots. The transitioning process can be adapted to your preferences. We can create a subtle salt and pepper look and slowly increase the amount of grey, or we can take you all the way to silver.
What is the Transitional Grey Hair Process?
The key word here is process. Transitioning your hair to grey can take several hours or several appointments, depending on your starting color and the desired end result. The goal of the service is to create a very natural-looking, blended result so that you feel beautiful and confident as your hair continues its natural transition. It's likely to include several steps to achieve that goal.
We analyze your grey color and natural salt and pepper pattern, so it's important to start with a few inches of new growth that has not been colored or highlighted.
We remove any previous hair dyes and depending on your starting color, we may need to lighten your hair all over.
Through a variety of techniques, such as single process color, highlights, lowlights, or balayage we add back color to mimic your salt and pepper pattern.
At each subsequent color appointment, we gradually reduce the amount of color we apply to allow more and more grey hair to show.
Transitional grey hair mimics your unique greying pattern.
There is a spectrum of grey hair, from white and ash grey to platinum silver, depending on how much pigment remains in the hair. If you have a couple inches of untouched root growth, we'll be able to get a good look at your grey color along with your greying pattern, which will be unique to you. That's where our hair color artistry comes in, as we need to color the rest of your hair with the same dimension to match your roots.
Experts in Silver and Grey Hair Transformations
Some women don't want a subtle transition, they want an immediate, sultry Silver Fox look. More salt, less pepper please! We can do that. The results will be stunning! And women find that instead of rushing back to the salon to cover up grey hair every few weeks, they're only returning to the salon to refresh their silver just a few times a year!
How much does Transitional Grey Hair and Silver Hair Transformations Cost?
This is a difficult service to quote without seeing you and talking about what you want. Do you want a transitional grey or do you want to go straight to silver? For this reason, Colour Me Beautiful Salon prices this service at a rate of $125/hour. The cost will depend on the number of steps in the process to get you where you want to be. Some transformations have taken us up to 10 hours. And although that's a lot of time in the chair, the initial transitional grey hair appointment will be the longest and most involved. From there, the look is fairly low maintenance with fewer trips the salon.
---
Pictures of a Recent Transitional Grey Hair Service
This client was tired of coloring her hair every few weeks to conceal her grey. She wanted a subtle (yet undeniably glamorous!) salt and pepper look that would allow her greys to grow in gracefully.
Before
During
After
The ONLY Transitional Grey Hair Salon in Albuquerque
Albuquerque
Bellehaven
North East Albuquerque
Santa Fe
Rio Rancho
Las Cruces
Los Alamos
Ready for a Grey Hair Transformation? Start with a Free Consultation
A consultation is the best way forward. We can talk about the look you want, review your options, and let you know how much the service will cost. Then we can book your appointment with the proper amount of time with our grey and silver hair expert.